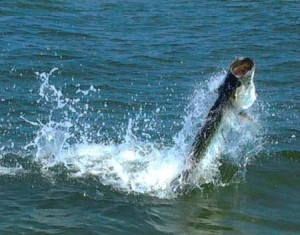 There is nothing quite as exciting as hooking and fighting a good size salt water fish on a fly rod. I live at the Jersey shore and get on the beach every chance I can. Saltwater casting is challenging and there is always wind. But the fish!… Every one is a truly worthy opponent on a fly rod!
Giant Tarpon in the Florida Keys are just plain Special!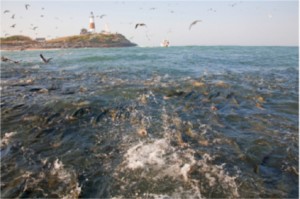 Montauk Point, at the tip of Long Island, NY can offer some of the most exciting fishing ever, especially during the fall migration. As the weather cools all fish start gathereing in preparation for one of the Great Annual Migrations. It's not uncommon to see acres and acres of fish, sometimes mixed stripers, Blues and Albies all crashing schools of baitfish. It's a magical time of year and these fish are eager. regardless of their size the fight is thrilling. I often fish from the beach but getting to the fish in a boat is a sure thing at this time of year. My largest Striper on a fly was about 35 pounds and gave me a fight I can still feel. Stripers are strong, know how to use current and with their very broad Caudal Fin they make your reel sing and your heart beat quicken! These fish are for real and it's very special just to witness first hand the magnitude of this Great Migrration, truly one of the great wonders of nature at a very beatuiful time of the year.