Where can you schedule a lesson or attend a workshop.
You just never know who is going to show up for a lesson at the Federation's Annual Conclave!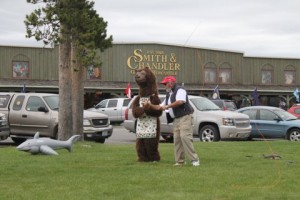 This was taken at the West Yellowstone Conclave in 2010. One of the workshops I started and have offered for the last 5 years is the Casting Rendezvous. Anyone attending the Conclave from Beginner to Expert can step up and get a lesson or work on a Specific Problem, any time all day long for 2 days, and it's FREE.
I also invite other instructrors to come and play give a denonstration or simply "Show me your Stuff"… it is always fun and you just never know who will pick up a rod and make an amazing cast…! For me as an instructor it is just about the "Challenge", it hones my instructing skills and I always learn something new. In addition to bringing lots of new casters their first real cast I have helped others cast further, cast really nice bamboo rods, throw a line more than a 100 feet, throw a controlled curve, cast with the non-dominant hand, present accurately to a target and on and on. It's just rapid fire problem solving all day long and so far no one has had a problem I couldn't diagnose and correct. If you ever attend a Federation Conclave come and see me. I will be happy to cast a line with you.
If you can't make the Conclave or one of the shows I am doing and the Casting Corner isn't solving your problem I would be happy to schedule a private or group lesson with you.
I live at the Jersey Shore and give most of my lessons in the general area. I am the Fly Fishing Pro at L&H Woods and Water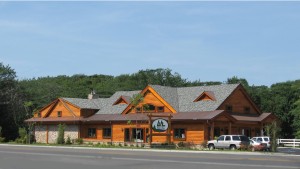 and do a fair share of my local teaching there.
Saltwater workshops other than basic casting are usually conducted on the beach or along estuaries.
Spey casting requires water anchors to learn properly and therfore I teach Spey in a local pond or river.
Unless it is a published workshop I schedule private lessons by appointment. The best method is to send me an email and I will call you to work out a mutually convenient time.
In some cases I have traveled to group lessons and given demonstrations please email me the details and we will work out the arrangements.
Make sure to check out the "Adventures" page for free casting and other instructional courses I have scheduled!
Please email Jim at MasterFlyCasting@gmail.com
I read this somewhere and nothing says it better!
There is no cure…for the passion of casting a fly
Once someone put a fly rod in your hand
….and somehow that changed your very existence, forever!
So you start traveling around the world
just to cast a line.
Some will never understand this passion, and you can't really explain it.
Best you can do is to put a fly rod in their hand!
…and that's exactly what I do!